Newsmax Finance- Jim Cramer: Buy Gold If You Fear Stocks!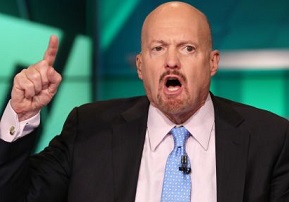 Article in Newsmax Finance
Investment guru Jim Cramer urges investors frightened by the seemingly endless stock-market volatility to seek some financial solace by buying gold.
"We can't assume it will be a smooth sail for the rest of 2019, so what does that mean for you as an investor if you need insurance for your portfolio? The best way to protect yourself from economic chaos is by owning some gold now, I have been saying this for years," Cramer said on CNBC.
"When the sells got extreme in December, gold prices rose by 5%, and it's continuing to edge higher historically, when other asset classes become volatile, investors love crowding into gold," he said.
"Every time something big happened, that made investors nervous, like the Fed's decision about their bond buying practice, gold spiked," he said.
"If you're looking for an insurance policy against volatility, gold is a great way to go. I like the stock market here, as you know, now that the Fed has decided to be more patient, but the whole point of diversification is to be prepared if something goes wrong, not right."
Cramer isn't alone in touting the precious metal as an investor haven.
Goldman Sachs Group Inc. analysts led by Jeffrey Currie raised their price forecast for gold, predicting that over 12 months the metal will climb to $1,425 an ounce -- a level not seen in more than five years, Bloomberg reported.
Bullion has benefited as rising geopolitical tensions fuel central bank purchases, while fears of a recession helped boost demand from investors seeking "defensive assets," they said.
Speculative interest in gold signals investors are not only closing bearish bets but are also adding to bullish positions, Suki Cooper, an analyst at Standard Chartered, said in a note.
Gold is also getting a boost from mounting speculation the Federal Reserve may pause in raising borrowing costs, boosting the appeal of non-interest-bearing metal.
"We expect the safe-haven bid, and to a lesser extent, gold's inflation hedge properties, to remain key drivers of the metal's price in 2019, complemented by a resurgence of physical demand,'' Cantor Fitzgerald analysts led by Mike Kozak said in a report.
Gold and silver are ''looking good in 2019,'' underlining a potentially positive indicators that ''should drive a bullish case" for both metals. "
To be sure, lingering trade-war uncertainty and fears of stalled global economic growth have enlivened expectations for higher prices among gold bulls, who believe that purchases of so-called haven commodities among investors will accelerate as riskier assets, including stocks, exhibit more volatility in 2019.
"The gold trade is continuing to become more fashionable as investors' appetites grow. Indeed, the climb in geopolitical concerns are behind what is now developing to be a new bull run. We continue to look for higher prices and think a breakout above $1300 is around the corner," wrote Peter Cardillo, chief market economist at Spartan Capital Securities, MarketWatch reported.
To read this article in Newsmax Finance, click here.