Market Watch: U.S. Stocks are Dangerously Close to a Classic Sell Signal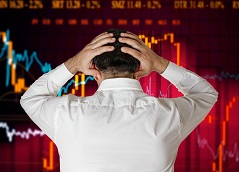 Article by Brett Arends in Wall Street Journal Market Watch
There's a number being whispered among stock market traders, and the whispers just got a little louder. The number: 2,770.
That's the level where the tumbling S&P 500 Index would trigger a closely watched sell signal, potentially setting off a broader alarm, selling pressure and further falls.
The S&P 500's close on Tuesday: Just 2,802 points — barely 1% above the trigger.
That's down 144 points from the benchmark index's 2019 high. And it comes as the bond market is also starting to flash amber warning signs about the economy.
The sell signal in question in the stock market is the 200-day moving average, meaning the stock index's rolling average of closing prices of the past 200 trading days (around 10 months).
Stock market experts note that pretty much every single major crash in history has taken place only after the index fell below its 200-day moving average. That's been true from 1929 through 2008. It has usually been a bearish or ominous sign.
To read this article in Wall Street Journal Market Watch in its entirety, click here.