FX Street: When Overvalued and Dangerous Markets Meet Stagflation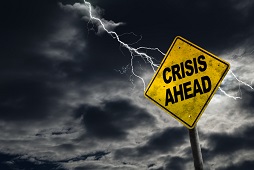 Article by Michael Pento in FX Street
To put into perspective how overvalued and dangerous the US market has become; I often cite the figure of total market cap to GDP—currently 145% of the economy.
How high is 145% of GDP? It is a full 30% higher than it was before the start of the Great Recession. The twin sister to this metric is the Household Net Worth to GDP Ratio. Household net worth as a percent of GDP is calculated by dividing the current bubbles in home prices and equities by the underlying economy, which has been artificially inflated by interest rates that have been pushed into the sub-basement of history. This metric is now an incredible 535% of GDP, which is a record high and 19% higher than the NASDAQ bubble of 2000. To put that figure in perspective, the historical average is 384%.
This begs the question: why are asset prices at an all-time high when Japan and Europe are stuck at zero percent GDP growth, U.S. growth has been cut in half, and the growth rate of China is decelerating. What caused these bubbles is no mystery: a decade's worth of Zero Interest Rate Policy and Negative Interest Rate Policy worldwide.
Wise investors will think about these facts and use this strategy to avoid getting sucked into the markets biggest black hole in history.
To read this article in FX Street in its entirety, click here.