Forbes: National Debt to Surpass $78 Trillion By 2028: What It Means for Americans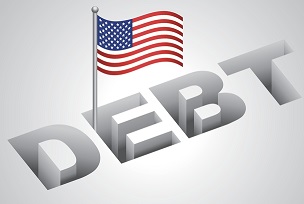 Article by Mike Patton in Forbes
The coronavirus pandemic pushed the government into the proverbial corner, prompting it to borrow heavily from the future to ward off a serious threat today. Without this intervention, the U.S. economy would be in a much worse recession or possibly even a depression. Even though borrowing excessively may have been the lesser of two evils, the burgeoning debt will have ramifications in the future. With the debt approaching $27 trillion, and projected to rise to $78 trillion by 2028, it will present significant challenges. How has the national debt changed during past presidential administrations? How will a Biden or Trump win in November impact the future? How will the current fiscal crisis affect future taxation?
When Jimmy Carter took office, the debt was $669.2 billion. Four years later, at the end of his term, the debt had risen to $964.5 billion. The debt increased by $1.77 trillion during Reagan's two terms; $1.4 trillion under Bush the elder; $1.5 trillion under Clinton; $5.3 trillion under Bush the younger; $8.7 trillion during the Obama presidency; and $3.3 trillion under President Trump, thus far.
President Carter, along with a democrat-controlled Congress, presided over a 44.1% increase in the national debt. His successor, President Reagan, oversaw a 77.4% and a 60.2% rise in the debt during his two terms while working with a split Congress in all but his final two years in office. During the George H. W. Bush presidency, the federal debt rose 54.4% as democrats controlled both houses in Congress. When President Clinton was in office, the federal debt rose as well, but only modestly. Democrats controlled Congress during his first two years, but republicans regained control for the remaining six years. When George W. Bush occupied the White House, the national debt rose 34.7% in his first term and 43.1% in his second. Republicans controlled Congress in all but his final two years. Under President Obama, the debt increased 50.7% in his first term and 18.3% in his second. During the first three years under President Trump, the debt rose 17.0%. Then came the pandemic.
The following table shows the amount of debt at the start of each presidential term (includes midterms), the percentage of increase during each president, and the party that controlled Congress.
How Much Debt is Too Much?
Most understand, to some extent, that excessive debt will hurt future generations. But to understand the full impact, we will ...
To read informative article in Forbes in full and view all eye-opening charts, click here.