Market Watch: U.S. Debt Jumps by Record Amount in Second Quarter Led by Federal Government, Fed Data Shows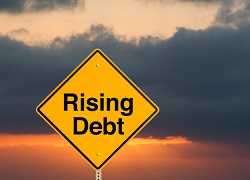 Article by Greg Robb in Market Watch
The numbers: The debt burden on the U.S. economy increased at a record pace in the second quarter led by government borrowing needed to cushion the blow of the coronavirus pandemic, according to a report from the Federal Reserve released Monday.
Total domestic nonfinancial debt rose at a record seasonally adjusted annual rate of 25.3% in the April-June quarter to $59.3 trillion. That's above the prior record of 19.25% during 1985.
What happened: Federal government debt increased a record 58.9% in the second quarter to $22.58 trillion, up from a 11.4% gain in the first quarter. Congress has approved $2.89 trillion in coronavirus relief spending this year.
Big picture: Economists recognize that the government's emergency actions are warranted but are worried the spike in debt could affect growth in the future. The U.S. had an unsustainable long-term fiscal picture even before the pandemic struck this year.
At some point ...
To read this article in Market Watch in its entirety, click here.