Bloomberg News: U.S. Debt Sales Hit Records Again, Feeding Deficit Criticism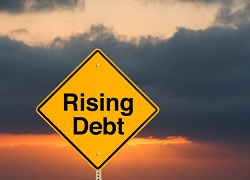 Article by Liz McCormick and Saleha Mohsin in Bloomberg News
The U.S. Treasury Department announced plans to issue another record-breaking amount of debt, giving President Donald Trump's re-election opponents more ammunition as they question whether his tax cuts will pay for themselves.
The federal budget shortfall is set to swell, driven by tax cuts, spending increases and an aging American population. As a result, the Treasury is raising its long-term debt issuance at its quarterly refunding auctions to $84 billion, the department said Wednesday, $1 billion more than three months ago. Such elevated levels of borrowing will finance the widening deficit, with Wall Street strategists projecting new debt issuance will top $1 trillion for a second straight year.
The ballooning national debt is already being drawn into the 2020 presidential election campaign. Former Starbucks Corp. CEO Howard Schultz, who is considering running as an independent, earlier this week said the U.S.'s debt levels are an example both Republicans' and Democrats' "reckless failure of their constitutional responsibility."
Debt sales have already surpassed levels last seen when the country was digging out of its worst economic crisis since the Great Depression. Combined with needing to fund the shortfall, the Treasury has been selling more debt as a result of the Federal Reserve's strategy to slowly let government debt roll off its balance sheet.
The Congressional Budget Office forecasts the federal budget deficit will top $1 trillion in 2020, with the U.S. government spending about $7 trillion just to service that debt.
The massive fiscal shortfall has drawn concern from investors, with DoubleLine Capital LP's Jeffrey Gundlach calling it a "horrific situation" in his annual webcast. Billionaire investor Seth A. Klarman, in a letter presented at the World Economic Forum in Davos, Switzerland, said global social tension, receding American leadership and rising debt levels all present a red flag.
To read this article in Bloomberg News in its entirety, click here.