CNBC: JP Morgan Co-president Says More Market Meltdowns Like December's Rout are Coming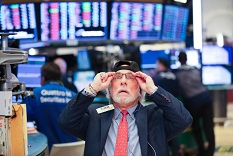 Article by Hugh Son in CNBC financial
The market meltdown that wiped out stocks' gains late last year will be a recurring feature of the trading environment, according to Daniel Pinto, co-president of J.P. Morgan Chase and head of its massive corporate and investment bank.
"Over time, you will probably see several more market events like we saw in December," Pinto said last week in an interview at the World Economic Forum meeting in Davos, Switzerland.
The S&P 500 crossed into bear market territory in intraday trading on Christmas Eve with an unnerving 20 percent decline from recent highs. It was the worst December for equities since 1931 and came amid concerns over a global economic slowdown.
That pattern is likely to repeat itself this year, thanks to an aging economic boom and changes to market structure that make it prone to sudden, violent moves, said Pinto, a former currency trader who climbed the ranks at J.P. Morgan to lead the world's biggest investment bank.
"People know we are working towards the end of the cycle, and they have built some risk and some positions that they've been accumulating for years, and they know that when they want to trade, liquidity won't necessarily be there," Pinto said. "So markets will tend to overreact to things, and you have these big moves, and then a correction to rationality, as we've seen."
'Faster and deeper'
Since institutions must hold more capital and take less risk, there are fewer big players to step in when declines push equities to attractive valuations. The moves are exacerbated by hedge funds employing computerized momentum-based strategies, resulting in corrections that are "faster and deeper," he said.
"This is not necessarily an unintended impact," Pinto said. "Regulators wanted to create a system that is safe, not a system where people wouldn't lose money."
The new market reality — a topic written about extensively by J.P. Morgan quant Marko Kolanovic — means that big institutional investors are adjusting by holding more cash and moving into or out of positions over longer periods, Pinto said.
To read this article in CNBC financial website in its entirety, click here.