CNN Business: Why the Disconnect Between Stocks and the Economy is Worrying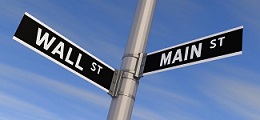 Article by Julia Horowitz in CNN Business
Global stocks have hit their highest level since early March as investors pile back into riskier assets, eager to get in on the euphoria that has overtaken markets in recent weeks.
That's despite ongoing concerns about the health of the global economy, little visibility on corporate earnings, uncertainty about the pace and shape of the rebound from coronavirus and widespread social unrest in the United States sparked by the death of George Floyd.
"The fundamental problem is market psychology and whether the narrative shifts from the summer of hope to the summer of discontent, where first consumers and then investors become jaded by a post Covid-19 hangover compounded by a White House running out of options on all front[s], be it domestic or foreign policy," Stephen Innes, chief global markets strategist at AxiCorp, told clients Wednesday.
But beyond worrying that assets like stocks are due for a nasty correction, there's another reason to be concerned about the disconnect between stocks and the wider economy, Jan Dehn, head of research at Ashmore Group, an investment management firm focused on emerging markets, told clients this week.
Dehn argues that stocks and bonds — which have been buoyed by record support from governments and central banks — have effectively become too big to fail.
"If central banks were to allow asset prices to reflect the actual underlying fundamentals — record levels of debt, record low productivity growth, record unemployment — the resulting crashes in financial markets would be so large that most Western economies would be plunged into deep and lasting depressions," Dehn told clients.
This isn't a viable outcome — which means ...
To read this article in CNN Business in its entirety, click here.