Business Insider: The Dollar is on Pace for Its Worst 4th Quarter Performance in 17 Years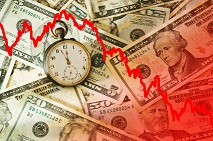 Article by Amanda Cooper in Business Insider
As COVID vaccines roll out and a long-awaited US economic aid package looks increasingly likely, investors are piling into the kinds of assets that do well when times are good - and that's not the US dollar.
The dollar has fallen by nearly 4% so far in the fourth quarter, its weakest performance in the final three months of the year since a 6.4% loss in the fourth quarter of 2003, and the losses look unlikely to slow any time soon.
"After a substantial multiyear rally, the US dollar appears rich versus other alternative "safe haven" currencies such as the euro and yen, which have become increasingly attractive," PIMCO said recently in its annual outlook.
In the darkest days of the coronavirus crisis back in March, when investors were ditching stocks, commodities, cryptocurrencies and even some fixed-income assets in droves, the dollar emerged as a life raft to which many clung when economic, social, and financial uncertainty was at fever-pitch.
Since then, thanks to the trillions of dollars in monetary and fiscal support from the Federal Reserve and the US government, the currency has fallen by over 16%, depressed by a combination of low interest rates that undermine its yield-appeal to foreign investors, as well as renewed risk appetite more broadly.
The greenback has lost around 6.5% against a basket of major currencies over the course of 2020, racking up a loss against every developed market currency.
With vaccines beginning to reach the general public, the economic outlook has brightened considerably, leaving the prospects for the dollar looking even weaker, according to some of the world's biggest investors, banks and prominent economists.
"A rapid recovery in the global economy should weigh on the "safe haven" Dollar, even if the US economy performs well," Goldman Sachs analysts, led by Zach Pandl, wrote in a 2021 preview last month.
Economist Stephen Roach, once a former chairman of Morgan Stanley Asia, back in September repeated his call for the dollar to depreciate sharply, based on the size of the US current account deficit, as well as the ....
To read this article in Business Insider in its entirety, click here.