Market Watch: Stock Market Bulls Have a New Story to Sell You. Don't Believe Them - They're Just in the 'Bargaining' Stage of Grief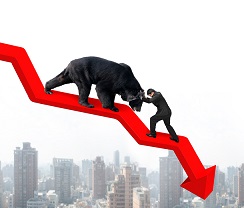 Article by Mark Hulbert in Market Watch
Might the bear market's losses at its recent low have gotten so bad that it was actually good news?
Some eager stock bulls I monitor are advancing this convoluted rationale. The outline of their argument is that when things get bad enough, good times must be just around the corner. But their argument tells us more about market sentiment than its prospects.
This is not an argument you'd normally expect to see if the recent low represented the final low of the bear market.
On the contrary, it fits squarely within the third of the five-stage progression of bear market grief, about which I have written before: denial, anger, bargaining, depression and acceptance.
With their argument, the bulls are trying to convince themselves that they can survive the bear market, rationalizing that the .......
To read this article in Market Watch in its entirety, click here.