Yahoo Finance - Economist: Coronavirus Recession 'Turning into the Great Depression II' Amid Jobless Spike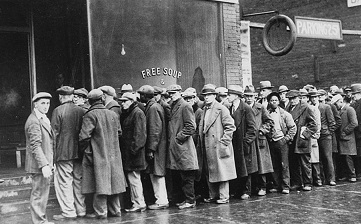 Article by Aarthi Swaminathan in Yahoo Finance
The 26 million unemployment claims filed in the U.S. amid the coronavirus pandemic has dire implications for the future of the U.S. economy, one economist warned.
"At this point it would take a miracle to keep this recession from turning into the Great Depression II," Chris Rupkey, MUFG managing director and chief financial economist, wrote in a note on Thursday. "It is going to take years not months to put these pandemic jobless workers back to work at the shops and malls and factories and restaurants across the country."
'A disaster for the country'
The initial wave of job losses were concentrated in the retail and hospitality sectors, but that's spreading to suppliers and other industries, ING Chief International Economist James Knightley stated in another note on Thursday.
"Net, net, jobless claims are warning that the worst isn't over yet for the American economy with businesses and consumers alike being sucked down into the abyss of the pandemic recession," Rupkey wrote on Thursday. "The risks to the outlook are that the economy is digging itself such a big deep hole that its ill become harder to climb back out of it."
And then "it will be too tired to run as fast as before," Rupkey added, shrugging off ideas of a fast or a V-shaped recovery.
And if "consumers remain reluctant to go shopping or visit a restaurant due to lingering COVID-19 fears, then employment is not going to rebound quickly," Knightly added. "As such, it would be another signal that a V-shaped recovery for the U.S. economy is highly unlikely."
To read this article in Yahoo Finance in its entirety, click here.