Market Oracle: The US Economy Needs More Than a Vaccine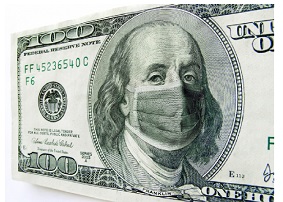 Article by Michael Pento in Market Oracle
The hype and hope being promulgated by Wall Street and D.C. is that the imminent and well-advertised approval of vaccines will bring the economy back to what they characterize as its pre-pandemic state of health. However, even if these prophylactics are very efficient in controlling the pandemic and lead the economy back to "normal", the state of the economy was anything but normal and healthy prior to the Wuhan outbreak.
The year over year change in GDP in the fourth quarter of 2019 from the trailing 12 months was just 2.3%. Admittedly, this wasn't indicative of a terrible economy; but it also was very far from what many have portrayed as the best economy anyone has ever seen on the planet. Most importantly, to even get to that rather pedestrian level of just trend GDP growth for the year, the Fed had to slash interest rates three times in the five months prior to the start of 2020. And, please also remember that the Fed felt it necessary to return to Quantitative Easing (QE) in order to re-liquify the entire banking system and save the markets from crashing.
The reason why the Fed was in full REPO Red-Alert back in September of 2019, was because the business sector of the economy was melting down under the weight of a record amount of debt ($16 trillion, which is 80% of GDP).
Indeed, some financial institutions were in so much trouble prior to the pandemic that they had to pay 10% to borrow money overnight on a secured loan backed by Treasuries just to stay in business.
Of course, the Fed "fixed" banks by flooding them with new dollars (QE); a practice that continues at present. Hence, a return to what most claim was "normalcy," in reality, would not at all be a sustainable condition. But even more daunting is what has occurred since the pandemic. Our government has leveraged the prevailing conditions of onerous debt, precarious asset bubbles, an unfathomable falsification of borrowing costs and a massive increase in the supply of dollars…including the Fed's new ventures into the purchasing of junk bonds and making loans in the primary market.
To be specific, the Federal government has added an incredible 30% to its outstanding debt load, the individual states are in need of a trillion-dollar federal bailout and the business sector is piling on debt at a $3 trillion annual pace during the first quarter of this year.
The stock market also needs more than a vaccine to become healthy and to justify its rather incredibly lofty level. It is very disturbing to have the valuation of stocks equaling 180% of the underlying economy, which is ...
To read this article in Market Oracle in its entirety, click here.