Business Insider: Billionaire Investor David Einhorn Sees Gold Rising Much Higher, and Says the Fed is Bluffing About its Ability to Tame Inflation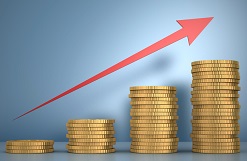 Article by George Glover in Business Insider.
David Einhorn believes that the current market environment will cause gold prices to run up, and that the Federal Reserve will fail in its battle to tame soaring prices.
The Greenlight Capital founder told the Sohn Conference that Fed policymakers are likely just "bluffing" when they say they'll tighten monetary policy to curb inflation - which eased slightly to 8.3% last month.
Gold has climbed steadily this year with investors favoring risk-off assets as stock market volatility surges. It is up 1.8% to $1,847.80 an ounce, although it had slipped 0.26% in early-morning Friday trading.
Einhorn is bullish on the precious metal because he believes inflation will prove long-lasting. Investors often see gold as a 'safe haven' asset because it maintains its value during periods of volatility.
"It's best to have some gold" right now, Einhorn said, adding that the price will rise "higher, perhaps much higher".
The Fed has started hiking interest rates to try to bring inflation under control. But Einhorn warned there's a possibility that this only drives prices up even further because of the high level of US debt, which will increase when rates go up.
"The Fed is bluffing," Einhorn told the conference. "[Raising interest rates is like] clearing off your snowed-in driveway with an ice cream scooper."
"Just wait until they're forced to loosen into an inflationary spike to support the Treasury," he added. "At that point, it's best to have some gold."
Investors have .......
To read this article in Business Insider in its entirety, click here.