S&P Global: US Election Winner Seen Kicking Debt Can Down Road with Bond Vigilantes Subdued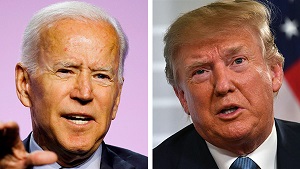 Article by Evan Fallor in S&P Global
There is not much standing in the way of the next U.S. president continuing to push back the country's day of fiscal reckoning.
Whoever wins the White House in November, the need for expansionary fiscal policy combined with a bond market that has been anesthetized by the Federal Reserve all but guarantees continued sizable deficits and a growing federal debt load.
What the actual numbers will look like depends, not just on who the next president is, but which party, if any, controls Congress. Still, if Biden gets to enact all of his stated policies, the national debt would likely increase by about $2 trillion by 2030. It is less clear what would happen during a Trump second term; after saying that he would balance the budget in his first term, he doubled the deficit between 2016 and 2019. At 16% of GDP in 2020, the deficit is predicted to be the largest since WWII.
"Regardless of which candidate wins, they will have to weigh another economic relief bill at the beginning part of next year," Michael Pugliese, vice president and economist for Wells Fargo Economics, said in an interview. "Whoever is president, it is definitely likely to be bigger in the next few years compared with 2019 as we recover from the pandemic and the economy has an output gap."
The run-up in deficits pushed federal debt held by the public to nearly $26.5 trillion in the second quarter, or 107.7% of GDP, according to the St. Louis Fed. That is up from 79% in 2019 and the highest level in U.S. history.
Large budget deficits are ...
To read this article in S&P Global in its entirty, click here.