CNBC - Cramer: 'Endless Buying for Gold' Could Signal a Shift to Real Fear in the Stock Market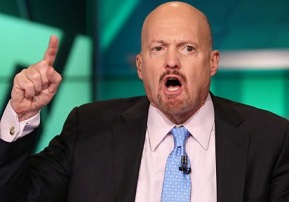 Article by Matthew J. Belvedere in CNBC financial
The investment community seems to be underestimating the potential fallout from rising tensions between the United States and Iran, CNBC's Jim Cramer warns.
Just after Monday's opening bell on Wall Street, Cramer said on "Squawk on the Street" that the key to the stock market is: "Gold, gold, gold," which was up for the ninth straight session.
"When I see this endless buying for gold, it makes me think for the first time people are just saying, 'I'm really fearful,'" said Cramer. He pointed out that the gold buying started even before Thursday night's U.S. drone strike in Iraq that killed top Iranian commander Gen. Qasem Soleimani as he was leaving Baghdad's airport. Soleimani had been the leader of a special forces unit of Iran's Revolutionary Guard.
Often in times of international strife, investors buy gold and U.S. bonds as perceived safety from historically riskier investments such as stocks.
"It's not just Treasurys. The gold buying has been endless; over and over and over. It feels like gold wants to go to $1,700 to $1,800. Now that would be very negative for the [stock] market," Cramer added.
To read this article in CNBC financial website in its entirety, click here.