New York Post: Blame the BRICS for the End of the Dollar's Global Domination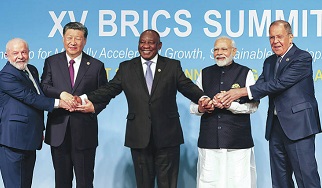 Article by Rebekah Koffler in NY Post
Nearly 15 years after the BRICS coalition of major emerging economies was established in 2009, the group has yet to achieve its ambition of ousting the US dollar as the dominant global currency.
But the alliance — originally comprising Brazil, Russia, India, China, and South Africa — took a major step toward flexing its communal currency muscle at its recent summit in South Africa.
Six new members joined the organization — Saudi Arabia, Iran, Ethiopia, Egypt, Argentina, and the United Arab Emirates — in an effort to reduce the dollar's decades-long dominance and end its use as the preferred payment for the one commodity that still dominates global trade: oil.
"De-dollarizing" the world economy could have dangerous consequences for ......