CNN Business: The 'Everything Rally' is Now the 'Everything Sell-off'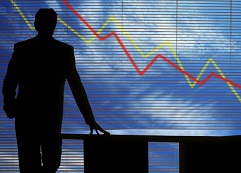 Article by Julia Horowitz in CNN Business
As the recovery from the pandemic took off last year, everything investors touched turned to gold.
The US stock market leaped 27%. Bitcoin rocketed to a record high. Commodities like oil and copper soared. Even alternative investments, from trading cards to wine, experienced a boom.
Now, the glee of the "everything rally" has been punctured as interest rates rise and the economy slows down, triggering the worst sell-off since 2020.
What's happening: The S&P 500 churned again on Monday, finishing below 4,000 for the first time in more than a year. The Nasdaq Composite plunged 4.3%. It's now more than 27% below its recent peak.
It wasn't just stocks that got pummeled, either. At one point, the yield on the benchmark 10-year US Treasury note — which moves opposite prices — hit 3.19%, its highest since late 2018.
Bitcoin dropped almost 10%. The cryptocurrency is now trading more than 50% below its record high of almost $68,790 reached late last year.
Even oil, which has been pushed higher by the war in Ukraine, got swept up in the selling mania. Brent crude futures, the global benchmark, finished the day down nearly 6%.
"It's an extension of what we have been seeing for the past couple of weeks. The only thing that changes is the pace," Jeroen Blokland, founder of investment research firm True Insights, told me. "These moves have become a little bit more violent."
Stocks are rebounding slightly on Tuesday. But Blokland thinks they haven't reached their floor yet. He ticked off three main reasons:
1. The economy is expected to slow down further. The US manufacturing sector still grew in April, he noted, but at a slower pace than in March. It's not out of the question that it could contract at some point in the future, in line with a steeper slowdown in growth.
2. The Federal Reserve is unlikely to change course. After the Fed's meeting last week, Wall Street was initially enthusiastic that Chair Jerome Powell ruled out even bigger interest rate hikes as he tries rein in inflation.
But reality quickly set in. The Fed is expected to remain aggressive as it aims to put a lid on prices. In doing so, it risks triggering a recession.
"Markets are starting to price the fact that the Federal Reserve and other central banks [have] no option but to stay the course, at least in the coming months, because they have to ........
To read this article in CNN Business in its entirety, click here.