Global Times: US' Excessive Money Printing Prompts De-dollarization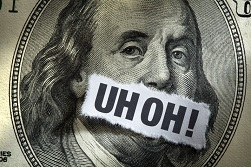 Article by Ma Jingjing in Global Times
As US stocks continue to hit new highs lifted by rounds of excessive fiscal stimulus, many countries are stepping up their de-dollarization efforts to reduce reliance on the greenback amid fears of a potentially weaponized US dollar.

US stocks rallied on Monday thanks to additional government stimulus and speedy vaccinations,
As part of efforts to revive the pandemic-plagued US economy, the US Fed has cut interest rates to zero and implemented unlimited quantitative easing. Following the recently signed "Relief Bill" that totaled $1.9 trillion, the US has unleashed fiscal stimulus spending of $5.2 trillion since the coronavirus crisis began, or about 25 percent of US GDP in 2020.
Fears of dollar-associated financial risks as well as the political risks of a weaponized dollar if the Biden administration continues the confrontational approach of Donald Trump, are prompting many countries, especially emerging economies, to swiftly push for de-dollarization.

The US dollar's share of global currency reserves plunged to 59 percent in the fourth quarter of 2020, the lowest in a quarter of a century, IMF data showed on March 31.
Countries in the Asia-Pacific region are preparing to switch to non-dollar mutual settlements, while African and Latin American countries showing growing interest in such efforts, the Sputnik news agency reported on Monday, citing an interview with Russian Deputy Foreign Minister Alexander Pankin. European countries have also set up a new payment system for trade with Iran to bypass US sanctions on the latter.

As US unilateral sanctions undermine confidence in the dollar, the Russian government is also moving to distance itself from the dollar system to minimize any possible economic impact. The Sputnik report said that Russia continues its effort to synchronize national payment systems with foreign nations, such as China and Japan, for the removal of dollars.

On March 31, major Asia-Pacific economies, including China, Japan, South Korea and the 10 ASEAN members, implemented an amended financing agreement, the Chiang Mai Initiative Multilateralization (CMIM), to bolster regional financial self-reliance by promoting the use of local currencies and cutting reliance on .....
To read this article in Global Times in its entirety, click here.