Newsmax Finance - Experts: Gold Best Defense Against Fed's Inflation Tactics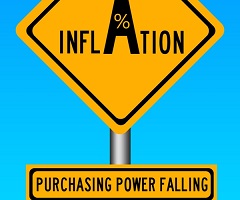 Article in Newsmax Finance
Thirty-year market veteran Matthew McLennan of First Eagle Investment Management is among those warning price pressure are coming down the road. He's betting easy money and further hits to productivity will spark inflation, making bigger companies with pricing-power and competitive advantage a good wager. He's also piling into gold as a pure hedge against the erosion of value caused by inflation.
McLennan is in the minority. The Federal Reserve's aim to let inflation run hot draws mostly derision across Wall Street after the central bank has failed to lift prices toward its 2% target for years. Even Fed officials themselves made clear Wednesday that they can't do it all, stressing that fiscal stimulus is critical to sustaining the economic recovery. Even so, some still see potential for inflation bubbling up.
"If you think about what the Fed's inflation averaging means, it means they might be happy to see inflation move over time from 1% to 2% to 3% to 4%, while interest rates remain close to zero," said McLennan, head of the global value team at First Eagle, which manages about $101 billion in assets. "That also means that real interest rates go down more."
What might make things different this time is that secondary affects of the pandemic may add to growing productivity bottlenecks and America's deficit keeps surging, says McLennan. Add to that the fact that the U.S. dollar is losing its luster.
Among the array of products McLennan helps manage, is the $43 billion Global Fund, which had gold as its biggest holding at about ...
To read this article in Newsmax Finance in its entirety, click here.