Bloomberg News: Stocks Near Record Highs Send False Signal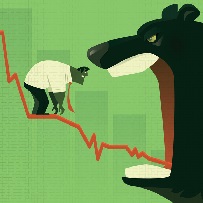 Article by Komal Sri-Kumar in Bloomberg News
From U.S. Treasury securities to gold and the shares of utility and healthcare companies, it's been a great time for financial assets that provide a hedge against an economic slowdown. And as the latest U.S. economic reports show, it's too soon to abandon so-called defensive assets even though the stock market has rebounded and is back near a record high.
The most important takeaway from last week's data, especially the drop in retail sales and industrial production, is that Main Street has joined Wall Street in anticipating the slowdown in economic growth to continue, and possibly lead to a recession. This confluence warrants a more rapid shift in allocation from higher risk assets, such as equities like those in the technology sector whose valuations are dependent on rapid growth, to more defensive holdings.
The unexpected 0.3% decline in retail sales for September is an ominous development ahead of the holidays when seasonal factors should be boosting spending and suggests consumers are increasingly concerned about the trade wars that President Donald Trump is waging with China and Europe, and how that could eventually affect U.S. workers' employment and wages.
Retail sales often serve as a leading indicator of overall consumer spending, which accounts for around 70% of gross domestic product. Rather than an isolated event, the drop in sales last month followed declines in consumer sentiment and confidence measures. Since weak consumer spending cannot be offset by other components of aggregate expenditures such as capital spending or government outlays -- they collectively account for less than a third of GDP – it carries a lot of weight in determining economic growth.
To read this article in Bloomberg News in its entirety, click here.