CNBC: Fed Officials Expect That Coronavirus Will 'Weigh Heavily' on the Economy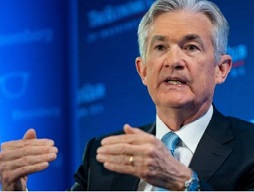 Article by Jeff Cox in CNBC financial
The Federal Open Market Committee released minutes Wednesday from its July policy meeting.
At the July 28-29 session, the Federal Reserve's policymaking arm voted to keep short-term interest rates anchored near zero, citing an economy that was falling short of its pre-pandemic levels.
Officials at the meeting "agreed that the ongoing public health crisis would weigh heavily on economic activity, employment, and inflation in the near term and was posing considerable risks to the economic outlook over the medium term."
Because of how much impact the virus will have on the economy, FOMC members said they expect to hold the current overnight borrowing rate to a range of 0%-0.25% until they're "confident that the economy had weathered recent events and was on track to achieve the Committee's maximum employment and price stability goals."
U.S. gross domestic product tumbled at a rate of 32.9% in the second quarter as the pandemic shut down most nonessential activities. A return to growth is expected in the third quarter, though a resurgence in the virus is casting some doubt on how aggressive the bounce back might be.
Along with concerns about general growth, members said they are worried about risks to the financial system.
Officials also expressed concern about burgeoning levels of public debt.
The federal government is now $26.6 trillion in debt, a gain of more than $3 trillion during the pandemic as Congress and the White House rushed to get aid to those impacted by the economic shutdown. That has coincided with a rush to market of Treasurys and is raising concerns that the high level of ...
To read this article in CNBC website in its entirety, click here.