Fox Business: Federal Deficit Hit $1.6 Trillion in First 10 Months of 2023, More Than Double Last Year's Shortfall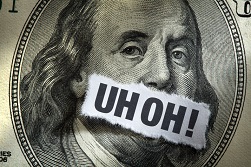 Article by Eric Revell in Fox Business
The nonpartisan Congressional Budget Office (CBO) announced that the federal government's budget deficit more than doubled through the first 10 months of the current fiscal year compared to a year ago.
In its latest budget review released Tuesday, the CBO found that the federal deficit was $1.6 trillion in the first 10 months of fiscal year 2023 — a significant increase over the $726 billion deficit the federal government incurred in the same period last year.
The CBO noted that federal spending was 10% higher during the reporting period than it was a year ago, while .......
To read this article in Fox Business website in its entirety, click here.