The Wall Street Journal: The Fed Is Underestimating the Risk of Inflation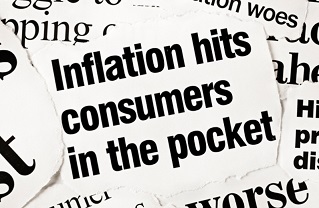 Article by Tim Congdon in The Wall Street Journal
Economists routinely make mistakes in forecasting, and such mistakes are often forgiven. But recent errors by the Federal Reserve are deeper analytical blunders. As with any activity that claims to have professional status, economics must respect elementary arithmetic.
From May 2020 to May 2021 the price index for personal-consumption expenditures, or PCE, rose 3.9%, while the consumer-price index jumped 5%. The inflation outbreak has come as a shock to many economists. The latest numbers have undoubtedly required top officials and researchers at the Federal Reserve to revise their thinking.
The Fed considers the PCE index the most reliable indicator of price trends. The Federal Open Market Committee predicted in June 2020 that the increase in the PCE in the year to fourth quarter 2021 would be between 1.4% and 1.7%. At its June 2021 meeting the band was increased to between 3.1% and 3.5%, still too low. The 200-basis-point adjustment is the largest since the instability of the Great Recession more than a decade ago.
Now the Fed is saying that consumer inflation will be less than 3.5% by the end of the year, even as the underlying data tell a different story.
Between the fourth quarter of 2020 (taking the average of three months) and May 2021, the PCE index increased 2.5%. In other words, the bulk of the 3.9% price increase has happened in 2021. So far in 2021 the typical monthly increase has been between 0.4% and 0.5%. If that trend continues unabated, the end-year numbers would be on the order of 5% or 6%.
The prices index in the May 2021 survey was 88%, slightly down from April but appreciably higher than November (65.4%) and December (77.6%). This suggests prices will continue to rise. The survey for services has a similar message. The typical monthly increase may even be higher in the remaining months of the year, as the increase in the PCE index in the year to the fourth quarter of 2021 could reach the supposedly unimaginable figure of 7%.
The Fed has been dismissive of concern, describing the upturn in inflation as "transitory." But it can't deny that the forecasts it made in the spring and summer of 2020 missed the mark by a wide margin. Its main concern then ......
To read this article in The Wall Street Journal in its entirety, click here.