Bloomberg News: U.S. Gets a Debt Warning from Fitch as Stimulus Battle Rages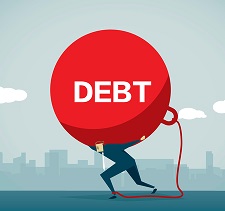 Article by Benjamin Purvis in Bloomberg News
One of the world's major credit-rating companies fired a warning shot regarding the U.S.'s worsening public finances on Friday, just as lawmakers in Washington contemplate spending more to combat the economic fallout from the coronavirus pandemic.
Fitch Ratings revised its outlook on the country's credit score to negative from stable, citing a "deterioration in the U.S. public finances and the absence of a credible fiscal consolidation plan." The country's ranking remains AAA.
"High fiscal deficits and debt were already on a rising medium-term path even before the onset of the huge economic shock precipitated by the coronavirus," Fitch said. "They have started to erode the traditional credit strengths of the U.S."
Stimulus Burden
General government debt is expected to exceed 130% of GDP by 2021, Fitch said, noting that the U.S. had the highest government debt of any AAA rated sovereign heading into the current crisis.
"Financing flexibility, assisted by Federal Reserve intervention to restore liquidity to financial markets, does not entirely dispel risks to medium-term debt sustainability, and there is a growing risk that U.S. policy makers will not consolidate public finances sufficiently to stabilize public debt after the pandemic shock has passed," Fitch said.
Fitch is not the first major ratings company to take a less-than-stellar view of America's public finances. S&P Global Ratings has already gone further, taking an ax ...
To read this article in Bloomberg News in its entirety, click here.