Market Watch: Fund Managers are Overwhelmingly Forecasting Stagflation Next Year with No One Anticipating Goldilocks Scenario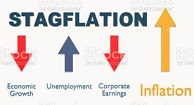 Article by Steve Goldstein in Market Watch
Fund managers are overwhelmingly anticipating next year to be a period of stagflation, with almost no one saying a turn into deflation is a worry, according to the latest survey by Bank of America.
An incredible 92% say they are expecting below-trend growth and above-trend inflation next year, the survey says. No one is expecting above-trend growth and below-trend inflation, and just 7% expect below-trend growth and below-trend inflation, the survey of 309 people managing $854 billion in assets finds.
Not surprisingly given the macroeconomic views, fund managers are staying cautious: according to the survey, they are .......
To read this article in Market watch in its entirety, click here.