Fox Business: Second-quarter GDP Plunges 32.9%, Worst Decline on Record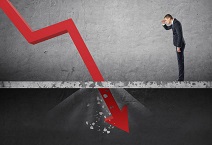 Article in Fox Business Channel
The U.S. economy shrank at a dizzying 33% annual rate in the April-June quarter — by far the worst quarterly plunge ever — when the viral outbreak shut down businesses, throwing tens of millions out of work and sending unemployment surging to 14.7%, the government said Thursday.
The Commerce Department's estimate of the second-quarter decline in the gross domestic product, the total output of goods and services, marked the sharpest such drop on records dating to 1947. The previous worst quarterly contraction, a 10% drop, occurred in 1958 during the Eisenhower administration.
Last quarter's drop followed a 5% fall in the January-March quarter, during which the economy officially entered a recession triggered by the virus, ending an 11-year economic expansion, the longest on record in the United States.
The contraction last quarter was driven by a deep pullback in consumer spending, which accounts for about 70% of economic activity. Spending by consumers collapsed at a 34% annual rate as ...
To read this article in Fox Business website in its entirety, click here.