CNN Business: Gold Heading to $2,000? Prices Surge on Global Fear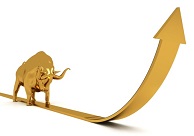 Article by Paul R. La Monica in CNN Business
Gold was one of the few investments heading higher Monday as worries about the coronavirus outbreak led to a steep market slide.
Gold is now up more than 20% in the past year, and trading near $1,600 an ounce, its highest level since 2013. Other precious metals, such as silver and platinum, have rallied too. Meanwhile, the Dow was down nearly 350 points in midday trading.
Some experts wonder if gold could top $2,000 in the not-too-distant future. Gold last hit an all-time high of just above $1,900 in 2011 in the midst of the European debt crisis.
The CNN Business Fear & Greed Index, which looks at seven measures of market sentiment, has plunged in the past week and is now not far from showing levels of fear. The index was in Extreme Greed territory just a week ago.
"There are a lot of things that could go wrong for the stock market and the economic impact of a China slowdown from the coronavirus could be felt globally," said David Beahm, president and CEO of Blanchard & Company.
But gold had been doing well even before most people had ever heard of the coronavirus. Why?
Three interest rate cuts by the Federal Reserve last year helped to weaken the US dollar. That's made gold more attractive than the greenback.
Gold isn't the only commodity that has benefited from worries about a slumping dollar and low interest rates. Silver, platinum and palladium prices have all soared as well in the past year.
This rally makes perfect sense given that interest rates are so low and the dollar is weakening. So how much exposure should a long-term investor have to precious metals in a retirement portfolio?
To read this article in CNN Business in its entirety, click here.