Market Watch: Gold Tops $1,600 for First Time Since 2013 as Coronavirus Fears Spur Haven Demand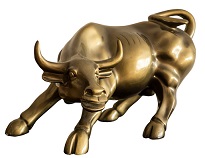 Article by Myra P. Saefong & William Watts in Market Watch
Gold climbed Tuesday, with prices headed back to their highest levels since 2013, as continued worries over the COVID-19 epidemic in China put pressure on stocks and sparked demand for assets perceived as havens, including gold and Treasurys.
"Gold is finding buoyancy from increased risk aversion, as reflected also in falling stock markets and declining bond yields. The gold price is continuing to defy the firm U.S. dollar, which on a trade-weighted basis is priced at a 4½-month high," said Carsten Fritsch, analyst at Commerzbank, in a note.
Gold for April delivery on Comex rose $13, or 0.8%, to $1,599.40 an ounce after tapping a high at $1,601.40.40—the highest intraday level for a most-active contract since April 2013, according to FactSet data. March silver was also up 29.6 cents, or 1.7%, at $18.03 an ounce, poised for the highest finish since Jan. 24.
"There is a good set-up for gold going into this and next week on the $1,600+ breakout and swing point," Peter Spina, president and chief executive of GoldSeek.com, told MarketWatch. The swing past $1,600 could lead to prices moving much higher, "with $1700 to $1900 coming in play over the coming months."
For gold, there are "many positives," he said. "The latest is that now 100% of the US Treasury yield curve is now negative yielding, if you now take inflation into account. Negative real yields with a falling rates is more fuel to gold prices heading, eventually, to record highs" in U.S. dollar terms.
To read this article in Market Watch in its entirety, click here.