Market Watch: Gold Prices Top $1,800 an Ounce, on Track for Highest Finish Since 2011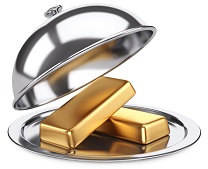 Article by Myra P. Saefong and Mark DeCambre in Market Watch
Gold futures topped $1,800 an ounce on Tuesday, heading for their highest finish since 2011, as uncertainty created by the coronavirus pandemic fed the metal's appeal as a haven investment.
"Gold is one of the only major asset classes to have a positive [year-to-date] return," said Jeff Klearman, portfolio manager at GraniteShares. "The demand destruction wreaked upon the U.S. and global economies and then the resulting unprecedented monetary and fiscal stimulus response here and abroad is the primary driving force behind gold performance this year."
"Ongoing uncertainty on the effects of the coronavirus on U.S. and global economic recovery, increased stock market volatility, the upcoming U.S. presidential election, civil unrest in the U.S., global trade friction along with the continuation of massive monetary and perhaps fiscal stimulus all provide strong support for gold prices," Klearman told MarketWatch. There's "very little reason to see gold prices move lower in the near future."
August gold rose $22.80, or 1.3%, at $1,803.80 an ounce. Prices haven't settled above $1,800 since Sept. 2011, according to FactSet data trading the most-active contracts. In August 2011, gold futures settled at a record $1,891.90.
In the first half of this year, prices based on the most-active contracts traded about 18% higher, over the quarter the commodity has gained nearly 13%, and almost 3% in June thus far, according to data from FactSet.
Meanwhile, September silver which is the most-active contract, added 52 cents, or 2.9%, at $18.58 an ounce. For the first six months of the year, the white metal has ...
To read this article in Market Watch in its entirety, click here.