Bloomberg News: Gold's Powerful Rally Brings $1,800 Into View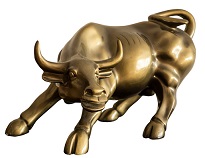 Article by Ranjeetha Pakiam in Bloomberg News
Gold extended its rally to hit the highest in more than seven years on concern that the coronavirus pandemic will have a deep effect on the global economy, hammering corporate earnings while supercharging demand for havens.
Futures in New York moved closer to $1,800 an ounce, a level last seen in 2011. Spreads between futures and spot prices remain wide, suggesting thinner liquidity, which is further exacerbating price dislocation.
"Liquidity conditions are challenging and market participants are understandably cautious," Joni Teves, a strategist at UBS Group AG, said Tuesday in a note. "Gold's journey has been quite bumpy so far, but given the macro backdrop we think the destination remains higher."
Overall, gold still has room to run, according to Hans Goetti, founder and chief executive officer of HG Research.
"What's happening here is that the Fed is expanding its balance sheet and every other central bank in the world is doing the same," he told Bloomberg TV. "What you're looking at is massive currency debasement in the long term. That's the major reason why gold is higher, and I would think that over the next few weeks or months, we're probably going to retest the high that we saw in 2011."
To read this article in Bloomberg News in its entirety, click here.