Yahoo Finance: Collapsing Dollar Could Push Gold to $2300 by May 2021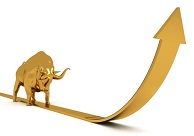 Article by AG Thorson in Yahoo Finance
I think the dollar is experiencing a meaningful devaluation. Prices are extremely overdue for a bounce, but the trend pushes persistently lower.
The final area of support arrives at the 2018 low of 88.15. If that level fails, I believe the USD could collapse to 80 by April/May 2021.
We are in a similar setup to the post-trendline breakdown of gold in 2002/2003.
Consequently, I believe the dollar is on the verge of an accelerated decline towards 80. The weakening dollar should push gold higher into April/May 2021.
In 2002/2003, the US was coming out of recession, just like now. The recent $900-billion relief package will not be the last. I expect one or two more programs next year – this should continue to deflate the dollar and push hard assets higher.
The 6-month cycle in gold likely bottomed at $1767.20 in November. Prices are climbing the "wall of worry," and I expect a breakout above the intermediate trendline within the next 1 to 3-weeks.
The minimum target on a breakout is $2300 for this leg higher. Silver and Platinum are leading gold and should outperform ....
To read this article in Yahoo Finance in full and view the relating charts, click here.