Bloomberg News: Doomsday Hedge Fund Sees Gold Topping $3,000 an Ounce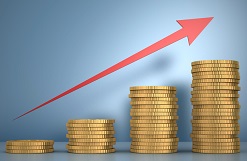 Article by Eddie van der Walt and Nishant Kumar in Bloomberg News
A hedge fund manager who returned 47% this year by betting on gold and Treasuries says the next decade is going to be marked by inflation that central banks are powerless to control.
Diego Parrilla, who heads the $450 million Quadriga Igneo fund, says unprecedented monetary stimulus is fueling asset bubbles and corporate debt addiction -- rendering interest-rate hikes impossible without an economic crash. In the ensuing market mania, the manager whose portfolio is loaded up with cross-asset hedges says gold could rise to $3,000 to $5,000 an ounce in the next three to five years, up from the current price of $1,800.
"What you're going to see in the next decade is this desperate effort, which is already very obvious, where banks and government just print money and borrow, and bail everyone out, whatever it takes, just to prevent the entire system from collapsing," Parrilla said in an interview from Madrid.
From Parrilla's perspective, the stimulus packages have exacerbated deeper issues within the financial system, such as central banks who have kept interest-rates near zero for more than a decade and are willing to re-write the policy rulebook in a crisis.
The value of his defensive portfolio has jumped as virus-fueled fear ripped through markets in February and March. The fund is about 50% invested in gold and precious metals.
"One of the key bubbles is fiat currency, and one clear anti-bubble in this system is gold," he said, adding that other examples are volatility, correlations and inflation. "It's a case of when, not if, they will reprice significantly higher," he said.
Gold has rallied 19% this year and captivated some of the world's most prominent investors this year, who argue that ...
To read this article in Bloomberg News in its entirety, click here.