Seeking Alpha: If Gold is in a Bull Market, Buy Silver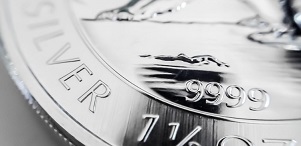 Article by David Brady in Seeking Alpha
When Gold falls, the Gold to Silver Ratio (GSR) typically rises as Silver falls even further than Gold. The same happens in reverse; when Gold rises, the GSR typically falls as Silver outperforms Gold to the upside.
From 2001 to 2003, when Gold was rallying off its low of ~250, Silver lagged Gold's performance during that entire period. The GSR rose from 46 to 82.Then from May 2003 until Nov 2006, Silver began to outperform Gold and caught up. The GSR fell to 45.
Then Silver weakened before Gold did heading into the 2008 sell-off. The GSR spiked higher in 2008 to 88. But once the bull market resumed in Oct 2008, it didn't take long for Silver to catch up to Gold and pass it by. The GSR fell to 32 before Silver again peaked before Gold did in 2011.
Now looking at the current situation, we see something similar going on. Since the December 2016 bottom in Gold at ~1,124, Silver has underperformed its big brother. The GSR has risen from 68 to 93 today.
To sum up, to the extent that we believe this bull market has just begun in earnest, and it has, in my opinion, everyone should be buying Silver, not Gold. Silver is extremely undervalued relative to Gold, and if history is anything to go by, Silver will soon begin to outperform Gold and ultimately pass it by in terms of gains. It did so from 2001 to 2011 and from 1974 to 1980, when Gold rose 24x but Silver rose 36x.
To read this article in Seeking Alpha in its entirety, click here.