Yahoo Finance: Gold Forecast - How Gold Prices Could Exceed $10,000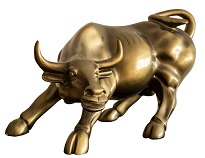 Article by AG Thorson in Yahoo Finance
THE BIG PICTURE FOR GOLD
The fundamental picture for precious metals has never been better. Governments worldwide have committed to suppressing interest rates and printing money to solve their debt problems. Eventually, they will be forced to default or devalue – it is that simple!
Collapse in Confidence
Government mismanagement will persist; this will lead to a breakdown in confidence amongst the American people. I see the potential for a breakup of the United States (balkanization) as political tensions escalate. Investors will flee government bonds fearing write-downs – gold will benefit.
Long-Term Cycle
Gold tends to form major bottoms every 8-years. The last low arrived in 2016. The next one should come in 2024. So, what can we expect over the next several years? Below ...
To read this article in Yahoo Finance in full and view the relating chart, click here.