Investing: Gold Looks Good and Silver Looks Great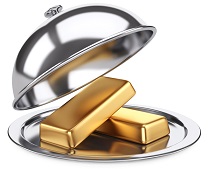 Article by Stewart Thomson in Investing.com
For silver, all roads probably lead to the $22-$25 area. For gold, all roads likely lead to $1600-$1800. There could be significant bumps in these roads, probably involving time more than price.
Silver looks stronger than gold, but gold is also looking very solid, from both a fundamental and technical perspective.
Whether silver breaks out from the bull wedge now or a bit later really doesn't matter. My recommendation to silver price enthusiasts is to get in on the action right now and buy more on any further price softness, which may or may not happen.
What about the retail investor? Standard Chartered Bank's heavyweight analyst Suki Cooper is highly respected in the institutional investor community. She predicts the stock market is likely to swoon in 2020, and retail investors will seek refuge in gold as that happens.
I've also been adamant that in any stock market sell-off, gold will be a better safe-haven that T-bonds.
Most money managers believe QE and rate cuts have waned as tools to boost economic growth, but they can still help to cushion a stock-market meltdown.
When the Fed rolled out QE and rate cuts in 2008, T-bonds still paid some interest. Money managers are concerned that the Treasury will join other central banks and begin offering negative rate bonds to investors.
Negative rate bonds issued by a US government that refuses to cut spending and debt are not a safe-haven… and they could be a time bomb!
To read this article in Investing.com in full and view the relating charts, c;lick here.