Business Insider: Gold Hits 7-year High but Analysts Say the 'Level of Fear in Markets' Could Push It to $2,000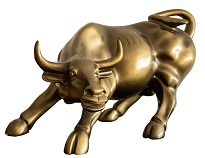 Article by Spriha Srivastava in Business Insider
Gold prices jumped above $1,700 on Monday, hitting a seven-year high as a coronavirus-fueled sell-off pushed investors into safer assets.
However, analysts have said that the precious metal could continue to climb higher.
"Gold could go through $2,000 this year, especially post the Federal Reserve's emergency action last week and the follow through we expect from them," Clark Fenton, portfolio manager of diversified returns at RWC Partners, said in a research note on Monday.
"It may look like gold has already rallied strongly, but investors have not missed their opportunity - we think it has a long way to go from here, not simply because it's commonly viewed as a safe haven but because the world has now changed fundamentally. We've never seen real rates this low globally, so investors will be forced to search beyond bonds to preserve their wealth," Fenton added.
Assets such as government bonds and gold are generally viewed as safe havens for investors. When there is uncertainty and challenging market conditions, investors tend to rush their investments from riskier assets to havens. At 9:50 a.m. ET, gold traded a little under $1,700, down 1.25%.
Lowcock forecast that the existing level of fear in markets "could push gold to $2,000."
"What we can see is the level of fear in markets is at extremes we haven't seen since the financial crisis and there is very little financial institutions and professional investors can do or say in the short term to reassure markets. As such, if the situation escalates there is a very real possibility the gold price could continue its run over the past few months, and it could even break through the $2,000 level."
To read this article in Business Insider in its entirety, click here.