CNN Business: Gold Price Hits Record High on New Fears for the Economy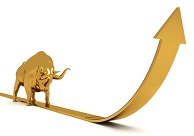 Article by Hanna Ziady in CNN Business
Gold prices have soared to a record high, with investors rushing to find safe places to park their money as concerns grow about a resurgence in the coronavirus and the impact that could have on the global economy.
Gold hit $1,944 per ounce earlier on Monday, beating its previous record of $1,921 set in 2011. It has now gained about 27% so far this year.
Silver also got a boost, climbing more than 6% to reach $24.21 an ounce, eclipsing Thursday's seven-year high.
"Gold is the clear beneficiary of safe haven demand," Stephen Innes, chief global markets strategist at AxiCorp, said in a research note. And the record run may not be over yet. Analysts at UBS expect gold to reach $2,000 before the end of the year, driven higher by low US interest rates, a weaker dollar and tension between the United States and China.
There is mounting evidence that America's fragile economic recovery is already stalling, as the number of coronavirus infections and deaths spike. Jobless claims are rising again for the first time in months and there are worries that the expiration of Washington's $600 boost to unemployment benefits, set to end on Friday, will deal another blow to consumer spending.
Austan Goolsbee, who chairedPresidentBarack Obama's Council of Economic Advisers in the aftermath of the 2008 financial crisis, told CNN Business that the United States could be in for another financial meltdown if the pandemic isn't quickly brought under control.
"Whoever is coming in there in January 2021 might be facing worse conditions than in 2009, as hard as ..."
To read this article in CNN Business in its entirety, click here.