Market Watch: Why Gold is Headed for the Largest Monthly Gain Since July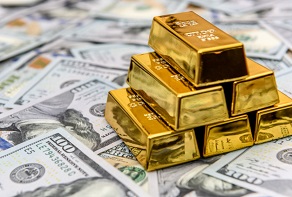 Article by Myra P. Saefong in Market Watch
Gold futures on Wednesday were on track to tally the largest monthly gain since July — just a day after breaching the key $1,900 mark for the first time in almost five months, with the precious metal finding support on the back of declines in the U.S. dollar and Treasury yields.
"After testing support in first quarter in the mid $1,700s," gold's move above $1,900 is "significant," said Kevin Rich, global gold market adviser for The Perth Mint. It's an "important technical and psychological level."
The latest climb pulled prices higher year to date, above the Dec. 31 most-active contract settlement of $1,895.10, FactSet data show. For the month, prices traded around 7.7% higher, which would mark the biggest monthly percentage rise since July 2020.
"Gold has recently been benefiting from a downward move in real yields, driven primarily from an increase in inflation expectations and related concern over the purchasing power of the dollar," Peter Grosskopf, chief executive officer of Sprott, told MarketWatch.
Gold's move is significant because investors assumed the economic recovery would support an increase in nominal and real yields, and that the U.S. dollar would rebound, said Grosskopf.
"After a healthy correction due to confidence in the recovery, gold will now anticipate investor concerns over overall debt and deficit levels," he said.
All in all, "the fundamentals for gold have never been better — record debt and deficit levels, financial markets that are priced for perfection and the emergence of inflation in response," said Grosskopf. "Gold should now move strongly higher."
"whether the anecdotal or 'transitory' inflation we have recently seen continues to dominate the news, and in reaction, whether the U.S. dollar ......
To read this article in Market Watch in its entirety, click here.