Forbes: Gold Headed To $1,700 By March, Analysts Say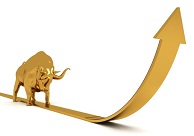 Article by Simon Constable in Forbes
Get ready for a fast and sizable pop in gold prices.
The cost of buying one troy ounce of the metal will likely rise by around 15% over the next couple of months, analysts say.
"Gold got very overbought into late August / early September, and since then it corrected its overbought reading," states a recent report from Wolfe Research by John Roque and his colleague Rob Ginsburg. They are technical analysts who read charts to forecast where asset prices may move next.
In this case, the two authors say the "turn" is on, and the next short-term move will likely see a surge of around 15% over the next 75 days or so.
The report notes that the sideways move in the price indicates a base is getting formed. Bases, or extended periods of sideways price action, are considered an important setup for a solid rally.
That good news is also combined with positive momentum indicators, which in this case show that the price has already begun a new trend higher similar to those seen at the beginning of past rallies.
Based on history, these so-called "turns" augur solid and fast rallies.
"Prior turns, and there have been 7 of them [since 2015], show gold rallying, on average, 15% over nearly 75 days with a median gain of 14% over 83 days," the Wolfe report states.
But perhaps more important is that Wolfe Research sees the price of gold eventually smashing records.
"We continue to believe that gold will make a new all-time high in this cycle," the report states.
That should mean the price will surpass its last all time high of around $1,900 which got made in early September 2011. That was in the wake of the financial crisis.
To read this article in Forbes in its entirety, click here.