Investing.com: Modeling Suggests Gold Will Break Above $1650 Within 15-30 Days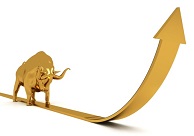 Article by Chris Vermeulen in Investing.com
Our Adaptive Dynamic Learning predictive modeling system is suggesting gold will rally above $1650 within the next 2 to 4 weeks, then settle into a narrow price range above $1600.
If you've followed our analysis of gold, you already know we expect the metal to rally above $1750 this year and to continue to move higher, attempting to breach the $2100 level. It is just a matter of time as far as we are concerned as Metals begin a massive upside rally as global debt markets become an issue throughout the world.
Right now, there is a very clear opportunity for gold to rally nearly $100 over the next few weeks.
Our ADL predictive modeling system is suggesting this should begin soon and will likely propel the price of gold to levels above $1640 before March 15.
This monthly gold chart highlights our overall trend expectations going out 8+ months.
We think this upside price rally will ultimately target levels above $1800. It will likely attempt this move in multiple upside price legs containing various pause/momentum basing events. Yet we believe the ultimate upside objective in gold is $1800 to $1850 before a new downside leg sets up. That downside leg will end fairly quickly, then the next wave of buying will push the price above $2100 and, ultimately, much higher.
Concluding Thoughts
This is an excellent opportunity for skilled traders to buy gold or silver near current levels before the upside breakout pattern drives prices 4% to 6% higher ($75 to $100).
To read this article in Investing.com in full and view the relating charts, click here.