Market Watch: Gold is Officially Outperforming Stocks in 2023 as October Rally Continues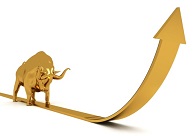 Article by Joseph Adinolfi in Market Watch
It's official: gold is officially outperforming the S&P 500 stock index in 2023 due to an October rally that has brought the price of an ounce of the yellow metal to the cusp of the $2,000 mark, a level it hasn't seen since May.
Metals traders attributed gold's gains to a surge in demand for hedges and safety plays following Hamas's Oct. 7 attack on Israel, which provoked a war between Israel and the group that is deemed a terrorist organization by the U.S. and European Union.
"The brutal Hamas attack on Israel sent shock waves around the world — and sent the price of gold soaring," said Brien Lundin, editor of Gold Newsletter, in a monthly outlook shared with MarketWatch.
As of Thursday's close, the S&P 500 had gained 7.8% since Jan. 1, while front-month gold futures have gained 9.2% during the same .......