Bloomberg News: Bold Bets That Gold Could Triple to $4,000 Trade in New York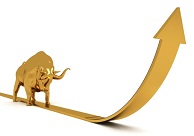 Article by Yvonne Yue Li in Bloomberg News
The gold options market saw $1.75 million in block trades betting the precious metal could almost triple in more than a year, surpassing the record.
Around noon in New York Wednesday, 5,000 lots of a gold option giving the holder the right to buy the precious metal at $4,000 an ounce in June 2021 changed hands.
"It's like 18-month term life insurance; what will the world look like if gold is at $4,000," Tai Wong, the head of metals derivatives trading at BMO Capital Markets, said in an email. "They are hoping for a quick violent move," he said, referring to the people who bought the call options.
Gold futures climbed to a record $1,923.70 an ounce in 2011 as the Federal Reserve bought more than $2 trillion of debt to stimulate the U.S. economy. While bullion has rallied 14% this year, the precious metal is still 24% below the current all-time high.
To read this article in full in Bloomberg News and see the relating chart, click here.