Forbes: This Could Be the 'Perfect Storm' That Pushes Gold to a New Record High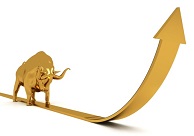 Article by Frank Holmes in Forbes
A "perfect storm" of surging government debt levels, plunging real bond yields, rising coronavirus cases and deteriorating economic forecasts pushed the price of gold to an eight-year high, and some analysts now project the metal to top its all-time high within the next 12 months.
What drove the yellow metal's price action was not just an alarming rise in confirmed virus infections—U.S. cases hit a new single-day record of more than 42,255 on Friday—but also a weakening U.S. dollar. The greenback declined the most in three weeks as the yen and euro strengthened amid gains in global shares.
The real 10-year Treasury yield traded as low as negative 0.66 percent last Tuesday, a level we haven't seen since May 2013. As I've shown a number of times before, gold trades inversely to bond yields, and when they turn negative, it's like rocket fuel for the yellow metal.
Get this: As of right now, the Fed's balance sheet stands at $7 trillion, or 33 percent of U.S. GDP. And earlier this month, the Treasury's public debt soared past $26 trillion, an incredible 120 percent of the entire U.S. economy.
This isn't sustainable, obviously, and some analysts now see dollar-denominated gold hitting a new all-time high in the next 12 months, even in a risk-on environment. Both Morgan Stanley and Citigroup maintain their call for $2,000 gold by mid-2021.
London-based research firm Edison goes even further. In a note dated June 23, analysts there commented that gold should be near $1,900, "with the potential for this to rise to in excess of $3,000."
Gold's Best Year Ever (So Far) in Dollar Terms
So far in 2020, physical gold is comfortably the best performing major asset. It's outperformed not just the S&P 500, but also the U.S. dollar, Treasuries and high ...
To read this article in Forbes in full and view the relating charts, click here.