Bloomberg News: China's Gold Prices Surge, Hitting a Record Against the World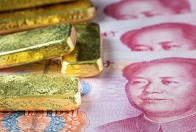 Article by Sybilla Gross in Bloomberg News
China's suddenly full of gold bugs.
The market for bullion in China has surged this month, at times commanding a record premium over international prices of more than $100 an ounce, compared with an average over the past decade of less than $6.
It's a flight to safety familiar to students of economic stress. "With the yuan falling, the property market slumping and capital ......