CNBC: Stocks Are Up, But So is Gold - And Analysts Say the Metal's Rally is Just Getting Started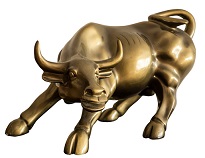 Article by Sam Meredith in CNBC financial
Global stocks continue to rally as hopes of an economic recovery overcome surging coronavirus cases, yet analysts remain bullish over investor appetite for gold in the coming months.
Investors still sought safety amid pandemic worries and gold prices on Wednesday soared above the technical level of $1,800 per ounce for the first time since 2011.
"The macro set-up is so perfect for something like gold," Michael Novogratz, CEO and chairman of Galaxy Digital, told CNBC's "Fast Money" on Wednesday.
"The Federal Reserve and central banks around the world just keep printing money – more money, more money, more money. And so, gold is going to take out the old highs, $1,950, and it is going to keep going. I think we are just starting this move," Novogratz continued.
"We are in the irrational exuberant zone on the markets but it is hard to figure out where that stops," he said, before adding: "We are in a bubble."
Gold is traditionally used as a hedge against inflation and prices typically move higher as economic conditions deteriorate.
However, somewhat counterintuitively, global stocks and gold prices are both seen to be moving higher at present.
Analysts say stimulus from central banks — and the extra money supply that can create — leaves gold well placed to rally in both the short and long term.
"What we would urge investors to do is to start to diversify and the one asset that is bound to go up a lot more is gold," Michael Howell, CEO of Crossborder Capital, told CNBC's "Squawk Box Europe" on Thursday.
Howell said the concurrence of the U.S. Federal Reserve and China's central bank both pumping money into markets was "magic news" for the yellow metal, predicting gold prices could climb as much as 50% over the ...
To read this article in CNBC financial in its entirety, click here.