Market Watch: Gold Scores Strongest Streak of Gains in 2 Years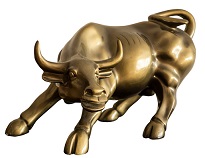 Article by Myra Saefong & Mark Decambre in Market Watch
Gold futures marked a 10th straight climb on Tuesday, the longest streak of gains in two years, with prices at their highest finish since 2013.
Haven demand for the metal boosted prices as investors weighed the prospects for further escalation in Mideast tensions.
"The latest spike in gold prices is being driven by the sudden escalation in US-Iran tensions, which is hitting world stock markets and leading investors to seek shelter," said Adrian Ash, director of research at BullionVault.
However, "underlying demand for gold had already turned higher in 2019, most especially among investors in the Eurozone, where negative interest rates are forcing savers and investors to find better homes for their money than bank accounts or debt investments," he said, as he presented data showing that BullionVault clients grew their holdings by 0.7% in December to a new record of 39.3 metric tons.
"I do not believe gold's spike on Monday was a one-time event," Michael Armbruster, managing partner at Altavest told MarketWatch. "Gold has already been in rally mode for two weeks prior to the escalation of tensions between the U.S. and Iran," he said. "The bottom line for gold, despite the stock market's melt-up (or because of it!), is that gold's rally suggests that investors are looking to diversify away from risk assets."
"Bullish factors include: the U.S. federal budget deficit is out of control, the [Federal Reserve's] rapid balance sheet expansion and central banks are buying gold," he added. "We think a rally to the $1,650 to $1,750 range is likely in the months ahead."
To read this article in Market Watch in its entirety, click here.