Energy & Capital: Gold Prices Set to Launch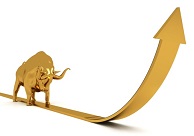 Article by Luke Burgess in Energy & Capital
Gold prices jumped to a seven-year high this morning following bleak economic data last week and grim second-quarter U.S. GDP forecasts.
At last look, gold was sitting at $1,755 an ounce, but rising concerns over global inflation have positioned the yellow metal for a breakout that could take prices screaming higher.
Bank of America is already expecting $3,000 gold. Others are predicting prices to top $5,000 or $10,000 an ounce and while $10,000 an ounce might seem far off from here, you may better understand their perspective when you see just how much new money central banks have created in the past few weeks.
In a scramble to pay for massive government spending programs aimed at providing relief from the pandemic, central banks around the world are expanding the money supply at an unprecedented rate.
In the past three months alone, the U.S. Federal Reserve has expanded the money supply (as measured by M2) more than throughout its three QE programs in response to the 2008 financial crisis.
The U.S. federal government has already committed over $3 trillion in relief for COVID-19. But with entire economies on lockdown, tax revenues are plummeting. In addition to filing extensions, income tax revenues have fallen off a cliff, with over 30 million Americans unemployed, for three months.
And, of course, the U.S. is not alone. This same thing is happening all over the world.
So governments did what they had to do to raise the money for relief: They monetized debt. Central banks put the printing press into fifth gear and bought their government debt to pay the bills which will go down in history as the biggest expansion of global money supply to date.
Investors buy gold on the fearof inflation. The whole idea of a safe-haven asset is protection. And in gold's case, that's traditional protection from inflation.
Right now, I think the trend is your friend. Gold prices have been marching higher over the past several weeks, and they don't seem to be stopping for many breaks. If inflationary fears flare up as a result of massive money creation programs, which we do believe likely, gold prices will most certainly take off.
To read this article in Energy & Capital in full and view the relating charts, click here.