Market Watch - 'Rich Dad, Poor Dad' Robert Kiyosaki: Don't save your money! Spend it on the 'best buy for future security'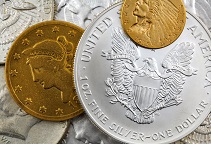 Article by Shawn Langlois in The Wall Street Market Watch
What should you do with your stimulus check?
Robert Kiyosaki, the best-selling author of "Rich Dad, Poor Dad," offered this bit of advice to his 1.3 million followers on Twitter for when that cash finally arrives:
"DEATH OF DOLLAR. People desperate for money. Very sad. If government gives you free money take it yet spend it wisely. DO NOT SAVE. Buy gold, silver, Bitcoin. Dollar is dying. Silver $20. Best Buy for future security. Everyone can afford $20, especially with free fake money."
Yes, instead of stashing away your check, Kiyosaki says load up on bitcoin, gold and silver in the face of the dying dollar
This has been a theme on Kiyosaki's social channels for a while and has taken on an added urgency as the coronavirus pandemic continues to weigh heavily on the stock market:
"Lesson 5. SAVE MONEY: RU NUTS? Why save money when QE FED counterfeiting is printing trillions of fake dollars-$82 billion a month to $125 billion a day? Why save when ZIRP, zero interest policy pays losers zero? Save gold-god's money or Bitcoin-people's money."
Kiyosaki has been pushing silver, which he hails as the "best buy," for a while now. Earlier this year, he told Kitco News he won't stop buying silver until it tops $40 an ounce — it currently sits below $15. "Silver is the most undervalued, lowest-risk, best investment of all asset classes," he said.
To read this article in Market Watch in its entirety, click here.