CNBC: Gold is Back Above $1,700. Charts Suggest an Even Bigger Rally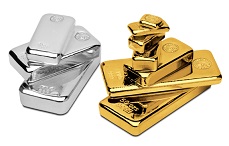 Article by Bill Baruch in CNBC financial News
Gold and silver each have tremendously bullish technical setups that cannot go ignored.
Furthermore, there are a number of fundamental tailwinds to help bring higher prices.
The Federal Reserve has cut rates to zero and unleashed a massive QE-infinity asset purchase program. They are not alone, as central banks around the world have done much of the same. On top of that, Washington passed its third fiscal bill, a historic $2.2 trillion measure. The world has known easy money for more than a decade, but not to this scale. The result of such will almost certainly bring rampant inflation later this year (bullish gold).
With the global economy contracting, currencies around the world all devalued at the same time, and U.S Treasury yields hitting record lows, this reinvigorates not only safe-haven characteristics for gold but its reserve currency characteristics.
If you look back to 2008, during the great financial crisis, gold lost 34% from its peak before bottoming and silver 60%. Each bottomed in October 2008 upon the Federal Reserve launching QE1 and Washington passing TARP shortly thereafter. The rallies that ensued were historic. At their heights in 2011, gold nearly tripled and silver rallied almost 500%.
On the heels of the deflationary swoon, silver broke through a trendline dating back to 2001. Its recovery, however, has a beautiful bull-flag pattern with the rally from March 20 to 25 being the flagpole and the consolidation over the coming days being a perfect flag pattern. This aligns a needed close above $15 in silver to not only break out of the bull-flag pattern but regain the 2001 trend line and fuel a massively bullish rally in gold, one that we would expect silver to join.
To read this article in CNBC financial website in its entirety and view the relating charts, click here.