Commodity Trade Mantra: Gold and Silver Prices at Current Levels may be the Last Opportunity to Buy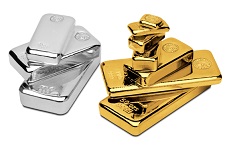 Article by Claudio Grass in Commodity Trade Mantra
After a remarkable run over the past few months, gold and silver now appear to have entered a period of consolidation. Many speculators and short-term focused investors have sold their positions fearing a correction, while mainstream market commentators fuel these fears, with analyses that proclaim "the end of the road" for gold and silver.
Of course, nothing could be further from the truth. All the very serious concerns and the fundamental reasons that caused the metals to rise so aggressively in recent months are, not only still intact, but they have grown, and spread, and find even more solid footing every time new data comes out of the Eurozone and the US.
Recession fears among investors hit an all-time high in mid-September, according to a Bank of America Merrill Lynch survey, as 25% of those asked expect a recession to strike in the next 12 months. Even more worrying where the results of the survey released by Wilmington Trust at the end of last month: "About 61% of investors surveyed with a household income of $225,000 or more say that they would give up growth opportunity for downside protection. And among those who have an annual household income of $500,000 or more, 76% say they would make this trade-off."
These concerns are more than justified. On the economic front, bad news continues to pile up.
It is, therefore, clear that trouble lies ahead in the economy and in the markets.
When we rationally and calmly assess the facts, the interest rate environment, the widespread economic weakness and the intense volatility in equity markets all point to a precious metals rally. The long-term picture and the fundamentals are exceptionally positive for gold and silver, that have already shown strength and once again confirmed their value as safe havens.
To read this article in Commodity Trade Mantra in its entirety, click here.